If you're looking for an UK data provider, there are a number of companies and online platforms that might suit your needs. Of course, each with their own strengths and offerings.
You'll find local companies that specialize in UK B2B data, but sometimes offer international data too. But you'll also find international companies offering data in the UK, although these providers often have less comprehensive and qualitative information than local companies.
In addition to business data, some B2B data providers also offer a range of services to help companies find, use, enrich, add or integrate business data into their products through the use of APIs.
To help you choose the right provider, we've compiled a list of the best B2B data providers in the UK for 2023.
In this article, we'll take a closer look at these leading providers, highlighting their distinctive features and explaining how they can benefit your business.
List of the top B2B data providers
Tools

Amount of data in the UK

Compliant (UK GDPR)

Infobel PRO

7,5M+ Companies

(320M+ Worldwide)

Data Gardener

5M+ Companies

Global Database

11M+ Companies

UK Datahouse

4M+ Companies

Market Location

1,7M+ Companies

Intermedia Global

Not specified

Corpdata

200K+ Companies

DataHQ

3,5M+ Companies
Infobel PRO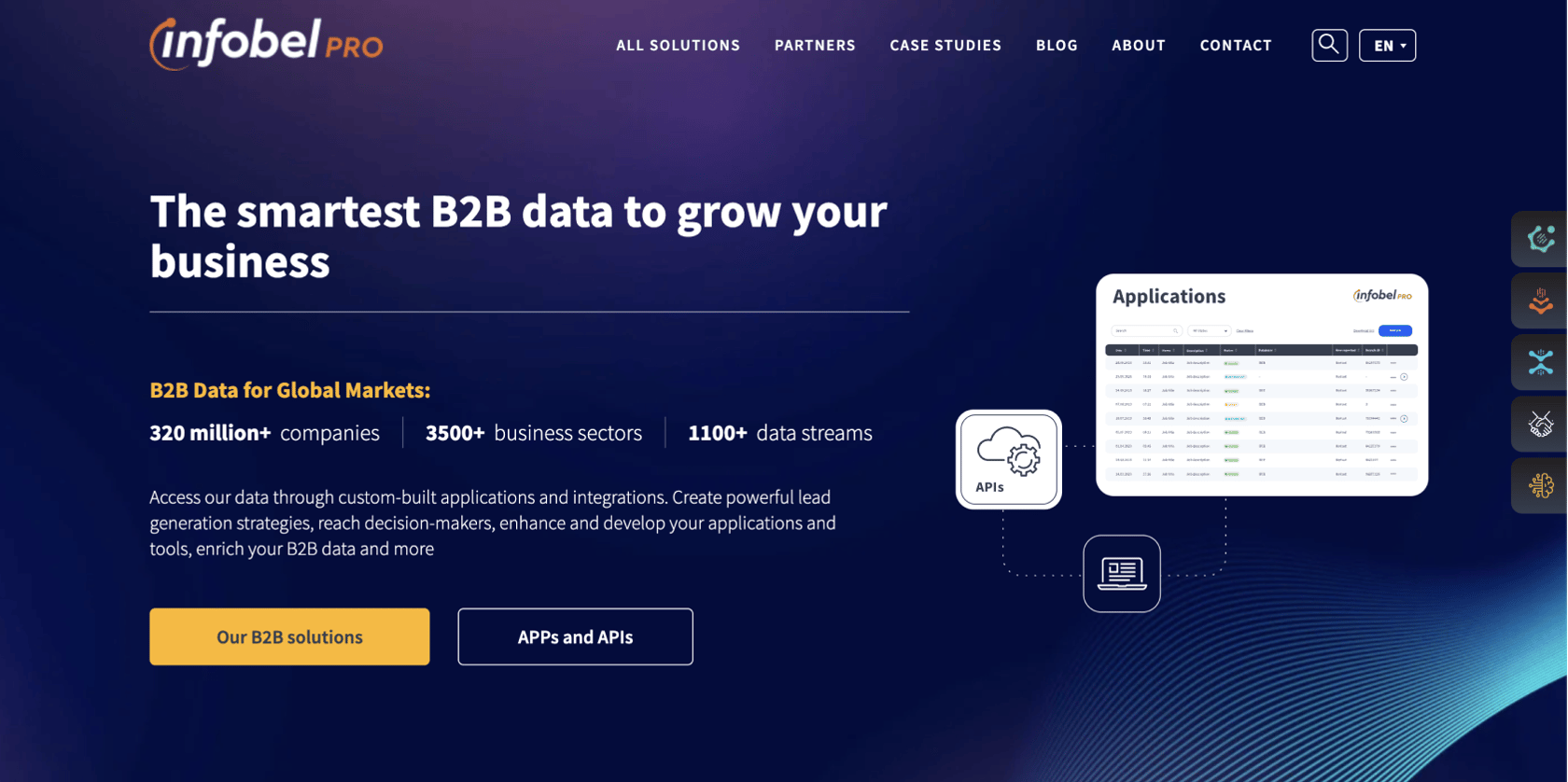 Infobel PRO is a B2B data provider offering comprehensive coverage of over 7.5M companies in the UK and over 320 million companies worldwide. We offer a wide range of data, including company names, addresses, company websites, contact information, financial data, historical data, technographic data and more. We also provides advanced search and filtering options through our platforms to help users find and extract the exact data they need for sales purposes.
Data Gardener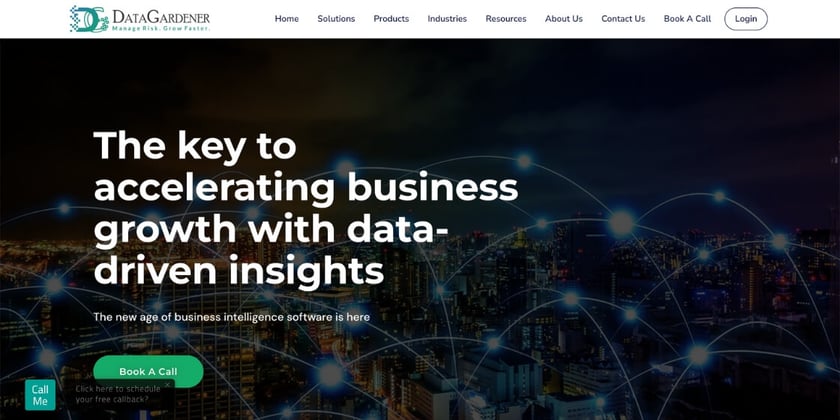 Data Gardener is a business intelligence platform, specialized in financial data. They provides data on financial information, property ownership, credit information, contact information international trade and other areas of business. With DataGardener, you have access to information on over 5 million companies, over 1.2 million telephone numbers and 4.6 million emails.
Global Database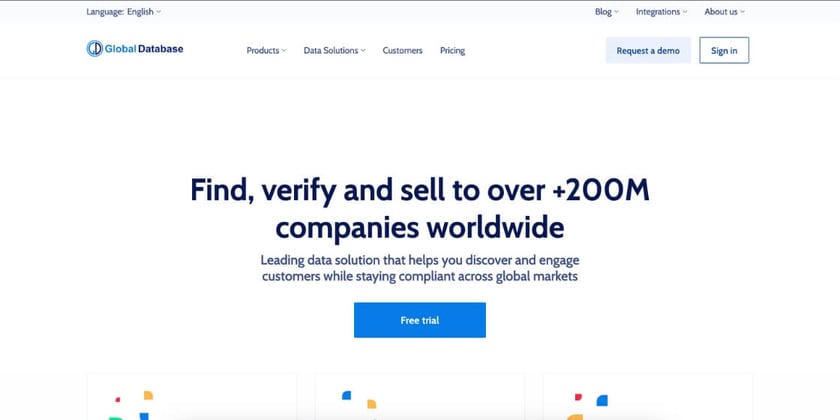 Global Database is a business intelligence platform that offers a wealth of company data and insights. With an extensive database covering more that 11 millions of companies in the UK, Global Database provides users with access to comprehensive company profiles, financial information, key executives, and contact details.
UK Datahouse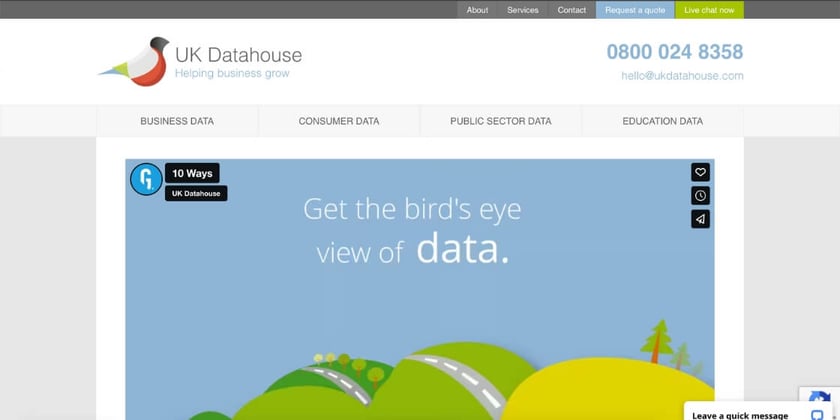 UK Datahouse is a B2B data provider specializing in the supply of data for direct marketing. With more than 4 millions contacts records, they provid targeted consumer and business marketing lists, data cleaning services and email marketing solutions.
Market Location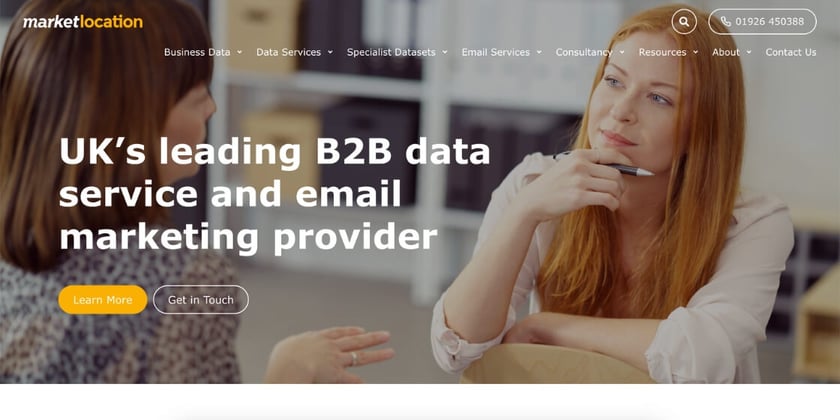 Market Location offers B2B data service and email marketing provider and is specialized in B2B contact data. The company has information on 1.7 million businesses in the UK.
Intermedia Global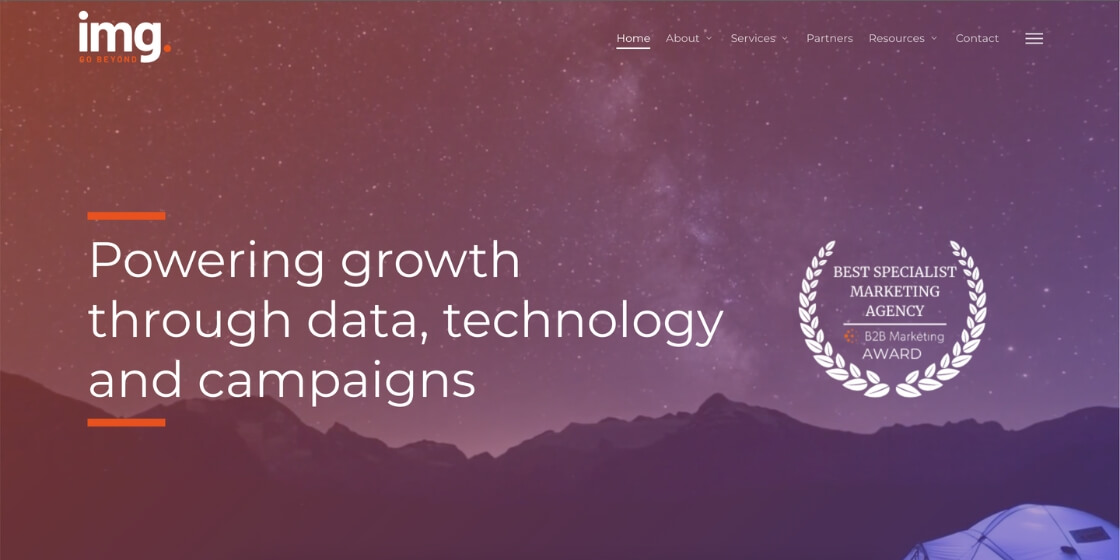 Intermedia Global is a provider of data-driven marketing solutions, offering a range of data services to assist businesses in their marketing efforts. Their services encompass list sourcing, data processing, bespoke solutions such as ABM & specialist data, lead generation, and data enhancement through analysis and cleansing.
Corpdata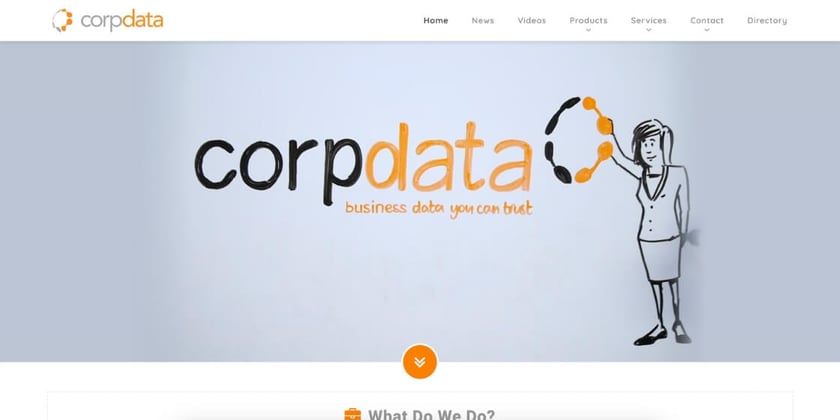 Corpdata is a UK-based provider of B2B marketing data. They focus on the data needed for direct marketing. Their database includes around 200,000 companies.
Data HQ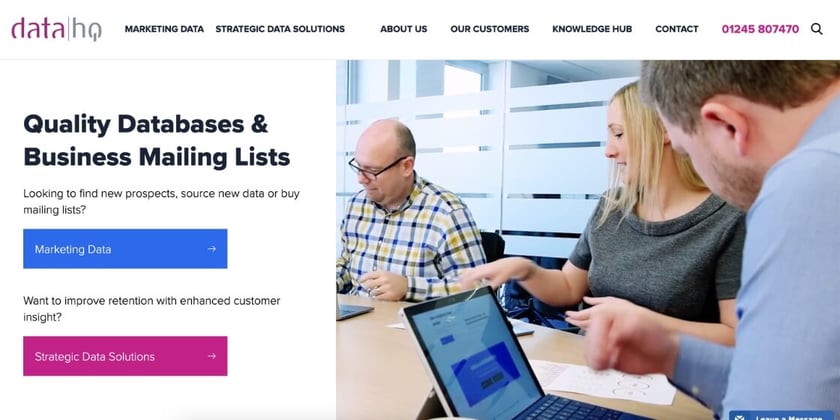 Data HQ is a B2B data providers specialized in Marketing Data and Strategic Data Solutions. They offer marketing list, data cleansing and email broadcaster services. They have data on over 3.5 million companies in the UK.
B2B database providers: what are the differences?
When choosing a B2B data supplier in the UK, it's important to consider the following differences:
Geographical coverage: Some providers offer global coverage, while others focus specifically on the UK market. Choose one that aligns with your target audience.
Data quality: Data quality can vary significantly among providers. Look for one that prioritize regular updates to ensure accuracy and reliability.
Features: Different

providers

may offer various features, such as segmentation, data analytics, and personalization. Select one that provides the features that meet your specific needs.
Price: Costs for B2B databases can vary greatly among providers. Find one whose pricing fits within your budget without compromising on quality.
Customer support: Customer support levels can differ among providers. Opt for a provider that offers quality support to assist with any issues or questions you may have.
The Best B2B data providers in the UK : FAQ
What is a B2B data supplier?
B2B data providers are companies that specialize in collecting and providing business-to-business (B2B) data to other businesses. This data includes information on companies, industries, markets, and more.
Why does a company need B2B data?
B2B data is valuable for various purposes, such as lead generation, market research, competitor analysis, and customer profiling. Accurate and reliable data enables marketing and sales teams to make informed decisions and gain a competitive edge.
Who are the main B2B data providers in
the UK

?

Some top B2B data providers in the UK include InfobelPro, Data Gardener and Global Database.



What are the main differences between B2B data providers?
Key differences between B2B data providers include geographic coverage, data quality, available features, pricing, and customer support. It's crucial to consider these factors when choosing a provider that aligns with your specific needs.
How can a company choose the right B2B data provider?
To select the right B2B data provider, consider factors such as your specific data requirements, the provider's coverage and data quality, pricing structure, and the level of customer support offered. Conduct thorough research and compare different providers to make an informed decision.
Conclusion
When looking for a B2B data provider in the UK, consider the differences in coverage, data quality, features, pricing, and customer support. By choosing a provider that meets your specific needs, you can access reliable and high quality data to drive your business forward.
Ultimately, choosing a B2B data provider will depend on your company's specific needs and factors such as coverage, data quality, features, pricing and customer support. It's important to take the time to compare different providers and choose the one that best meets your needs.
At Infobel Pro, we understand the importance of reliable, accurate data for businesses. That's why we offer a range of services, from company data to marketing tools, to help businesses succeed. Our platform provides easy access to up-to-date information on millions of businesses worldwide, giving you a competitive edge. So why wait? Discover our B2B data solutions today and start accessing the data you need to drive your business forward.