If you want to close deals with your best leads, you may consider using a Customer Relationship Management (CRM) software
One of the main functionalities of a CRM software is to track contacts, increase customer loyalty and repeat sales. With the right integrations with other software, a CRM becomes the hub for managing your customer's journey, from the first marketing interaction, through closed transactions, to the next engagement.
Some small businesses tend to replicate CRM system features using spreadsheets, which is typically a homegrown solution that only offers a subset of functions of CRM but becomes exceedingly complex once your customer count goes over 100.
The best CRM software is easy to use and does more than store user and contact information. They automate calendar events and appointment reminders, prioritize the sales pipeline, and detect new sales possibilities.
In this article, we'll discuss some of the best CRM programs on the market and their features.
In order to make the most of a CRM, you need reliable business data to target the right leads.
Infobel Pro provides you with reliable
B2B data solutions
(whether you need to reach out to a small number of targeted local companies or a worldwide complex selection of businesses).
What to Look for When Choosing a CRM?
It's important to note that there are plenty of CRM solutions on the market, and while some offer comprehensive CRM features, others might offer nothing more but the bare essentials.
Contact Management — Contact management software consolidates customer information. This simplifies lead, customer, and pipeline tracking for sales teams.
Ease of Use — Easy-to-use CRM software saves time and money. You don't want to spend hours learning the software with a steep learning curve.
Organization and Task Management — Small businesses must track and manage tasks more effectively, and a good CRM platform can help with both task management and workflow automation.
Customer Support — Good customer service is essential for CRM software. You should be able to get help via phone, email, live chat, or even social media.
Sales Forecasting — It's easier to predict future sales with marketing automation solutions that can predict deal closings. This helps startups know which deals will close and when.
Lead Generation and Lead Management — Email is one of the top CRM tools for entrepreneurs. Businesses of all sizes use email platforms, while startup CRMs let you use Gmail or Microsoft Outlook. A good CRM integrates with the best email marketing software to help startups turn email connections into leads quickly.
Third-Party Integrations — Integration-ready CRM software saves time and money over time. Your CRM software should readily connect to your database and accounting software.
Unlimited users/scalability — Look for a solution that allows you to add more team members at an accessible price.
Our Picks for Best CRM
Here's our pick for the best CRM software that can help fuel your business success:
Hubspot CRM - The best CRM software for integrations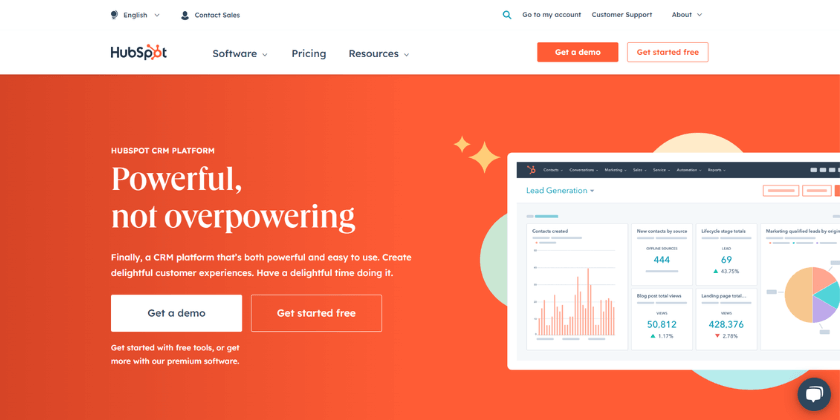 HubSpot is a feature-rich platform that provides an excellent user experience overall. It includes features for managing customer interactions, sales, marketing, and customer service. It also includes tools for email marketing, social media management, and website analytics. It interacts with a variety of other software programs, so you may maximize the use of your current IT infrastructure.
This also eliminates the need for manual data entry, as the software automatically records and arranges all your customer data. The visual dashboard can be used to determine what aspects of your sales process are effective and ineffective.
Key Features
Informational and customizable dashboard
Deal tracking
Pipeline management
Pros
Great Integrations
Record customer interactions
Strong customer support
Cons
Some features may be unnecessary for smaller business
Pricing
Free plan — Hubspot offers free products in Marketing, Sales/CRM tool, Service, CMS and Operation.
Separate products and services — For each of its products and services, Hubspot offers 3 packages, Starter, Professional and Enterprise. The price depends on the service, ranging from 23$/month for the Starter CMS pack to 2000$/month for the Enterprise Operations Hub pack.
Bundles — Hubspot offers ready-made bundles in Starter, Professional and Enterprise but you can also create your own bundles according to your needs.
Pipedrive - The best CRM software for Sales Pipeline Visualisation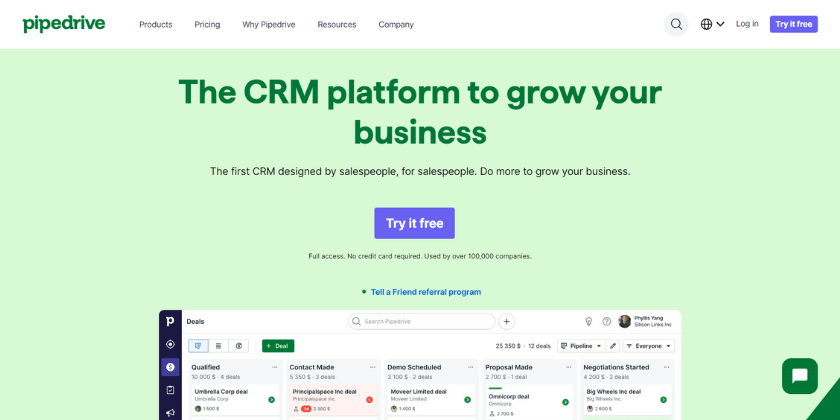 With a design created for salespeople who want to stay focused on their negotiations, Pipedrive is a sales CRM that's straightforward and simple to use. This platform has an all-in-one sales platform for increasing revenue and managing your pipeline, making it one of the fastest-growing CRM platforms available today.
Pipedrive also includes tools that let you streamline routine operations so you can concentrate on growing your business. To make sure you don't miss any important deadlines, you can also receive automated reminders and alerts.
Key Features
Team collaboration features
Customizable to your business needs
Plenty of management tools
Pros
Easy to set up
Intuitive interface
Visual indicators
Cons
Visual design can be overwhelming
Limited integrations compared to Other CRM
Pricing
Essential — $14.90 per user per month
Advanced — $29.90 per user per month
Professional — $49.90 per user per month
Enterprise — $99.00 per user per month
SugarCRM - The best CRM for flexibility and customization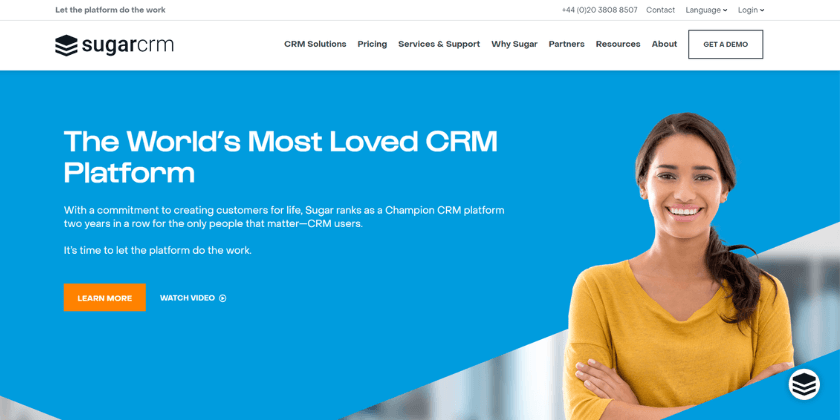 One of the first competitors in the CRM space, SugarCRM is remarkable for starting off as an open-source initiative. It allows you to edit each module, portal, and report. That implies that you can maximize every value from your CRM with a little work. SugarCRM can show you how to obtain what you want from your CRM if you know exactly what it is that you want. As a result, complexity is the compromise with this option.
Large enterprises may find themselves in need of support if they want to heavily customize the system. Smaller businesses may find the abundance of SugarCRM options confusing if they just want to get up and go. In that situation, go with a product that is more SMB-friendly.
Key Features
Numerous sales management add-ons
Marketing and sale automation
Pros
Deep feature set
AI-powered analytics
Great integrations
Cons
The very steep learning curve
Pricey
Pricing
Sell — $49 per user per month
Serve — $80 per user per month
Enterprise — $85 per user per month
Market — $1000
Are you a CRM editor ? Find out how you can leverage Infobel Pro's business data solutions and databases. Take your product to the next level thanks to datasets and APIs
Monday.com - The best no-code CRM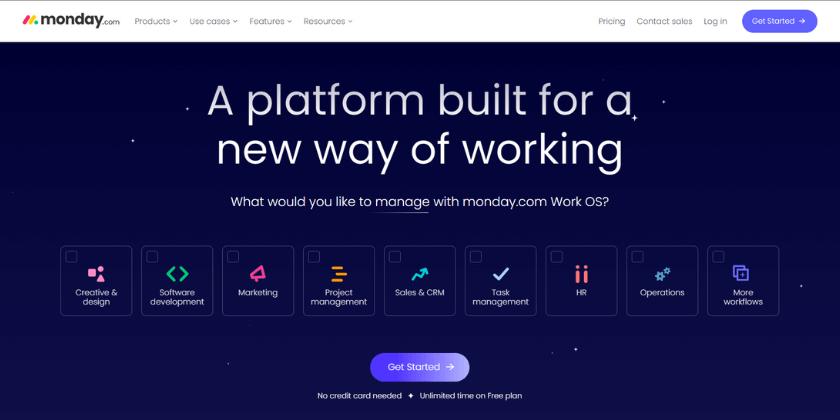 Monday.com is heavily oriented toward team communication and productivity, making it simple to assign projects, create deadlines, and monitor progress. With Monday, you can also design unique workflows to automate your business processes, making it simple to adapt the program to your own requirements and make it function as you like.
The visual dashboard is excellent for rapidly assessing your team's performance and pinpointing potential improvement areas. Additionally, You may enter leads from any source with Monday.com, allowing your sales force to concentrate on closing deals rather than entering data.
Key Features
Email Integration and email campaigns
Tracking marketing campaigns
Plenty of email templates
Marketing team's performance overview
Pros
Plenty of automation options
Insightful
Cons
An overwhelming number of notifications
Compatibility bugs
Pricing
Individual — $0 /seat/month
Basic — $8 /seat/month
Standard — $10 /seat/month
Pro — $16 /seat/month
Enterprise — Based on a custom quote
Zoho CRM - a top rated CRM software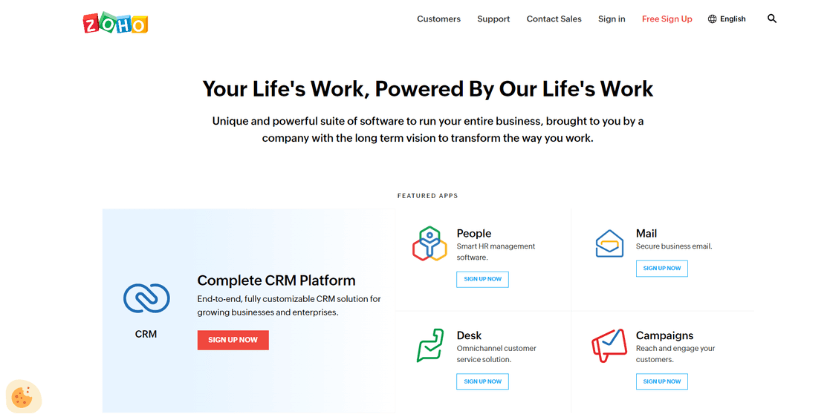 Over a quarter of a million companies use Zoho CRM to boost sales and clinch more deals. The wide set of features Zoho CRM provides you with the information and resources you need to expand your company.
Zoho CRM allows you to modify the software to meet the unique requirements of your company, which distinguishes Zoho CRM from other CRMs available on the market. It's truly the best general-purpose CRM if you want to be able to reach clients through a variety of methods.
Key Features
Great Analytics and Performance Measurement
Track KPIs
Good AI predictions
Pros
Comprehensive CRM
Invoice management
Cons
Lacking team communication
Pricing
Free Trial
Standard — $14 per user per month
Professional — $23 per user per month
Enterprise — $40 per user per month
Ultimate — $52 per user per month
Freshsales CRM - The best CRM for Contextual Sales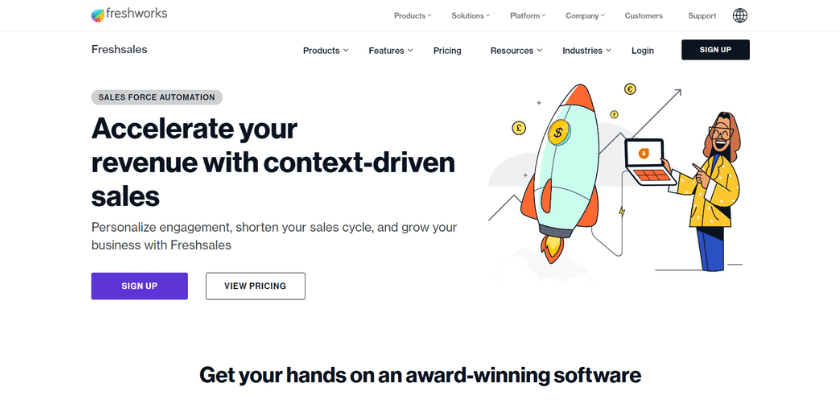 With the aid of its AI-powered features, Freshsales CRM (formerly Freshworks CRM) assists companies in accelerating their sales pipeline and closing more deals. The numerous engagement features can be customized to meet the requirements of your clients and business.
To deliver a superior customer experience, you must have a thorough knowledge base of all of your customer's interactions with your company. Luckily, Freshsales CRM provides a 360-degree perspective, encompassing all the client's needs and service requirements.
You won't ever have to worry about forgetting what was stated during a previous interaction because of the CRM platform's ability to provide context to any communication.
Key Features
Intuitive; Provides context in customer interactions
Deal and lead scoring
Great communication capabilities
Great forecasting
Pros
Automated customer interactions
Easy data accessibility
Cons
Pricing
Free Plan — $0 per user per month, billed annually
Growth — $15 per user per month, billed annually
Pro — $39 per user per month, billed annually
Enterprise — $69 per user per month, billed annually
Insightly - The Best CRM to Build Customer Relationships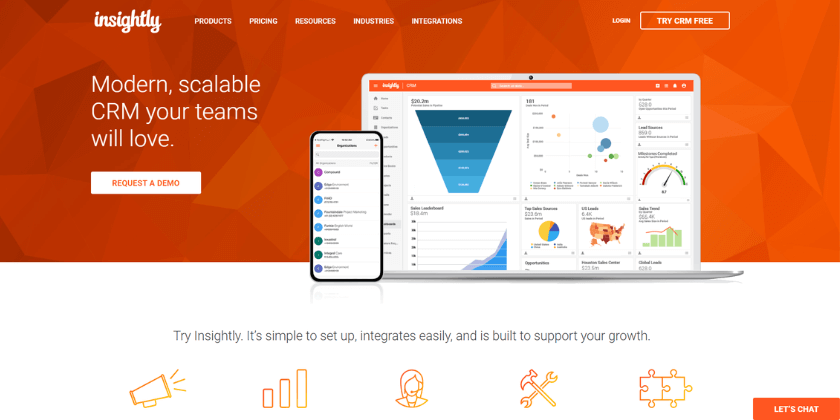 Insightly assists in growing your business by providing a top-notch customer experience through sales and marketing coordination. It gives you the insights you need to advance your business by turning leads into customers and those customers into promoters.
Additionally, you can connect to and interact with the daily-use apps, ensuring that your business operation is not interrupted. Insightly is a fantastic CRM to consider if you want to go above and beyond for your customers.
Key Features
Quick project management
Customer behavior modeling
Pros
Smooth data entry and sharing
Nice interface
Highly customizable
Cons
Pricing
Plus — $29 per user per month
Professional — $49 per user per month
Enterprise — $99 per user per month
Salesforce CRM - The best CRM Software for scales-up and enterprise companies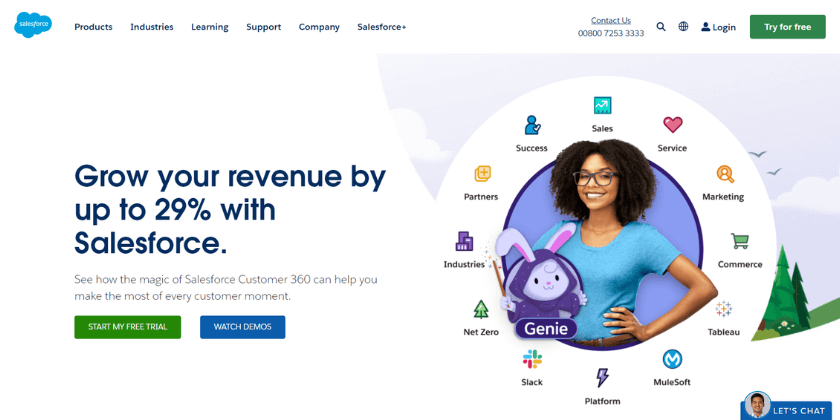 Since Salesforce essentially wrote the book on CRM, it has maintained its dominance even as newer, quicker competitors have emerged to compete with it. There's likely no CRM feature you could possibly ask for that Salesforce can't provide. Additionally, because of its tiered pricing structure, even small organizations may afford its entry-level Salesforce Essentials solution.
With Salesforce, you simply can't go wrong unless it offers far more features than you could possibly require — it's one of the few products we examined that can actually scale up to meet the demands of the biggest businesses. If your goals aren't quite so high, though, you might want to look into some other possibilities that could help you get started more quickly and affordably.
Key Features
A very comprehensive set of features
Very customizable
Pros
Great team collaboration options
Outstanding workflows
Solid performance
Cons
Steep learning curve
Pricey
Pricing
Essentials — $25 per user per month (billed annually)
Professional — $75 per user per month (billed annually)
Enterprise — $150 per user per month (billed annually)
Unlimited — $300 per user per month (billed annually)