Business-to-business data (B2B) is information about other businesses encompassing company identifiers, funding and revenue, firmographic data, and several other metrics. This data about other businesses is used by companies to fuel marketing campaigns and sales strategies or various other processes.
B2B data is leveraged by various companies to better understand other businesses, generate business opportunities, enhance decision-making and market research, and improve lead generation. Marketing teams also use it to make informed decisions about possible contact information within other companies.
For B2B businesses, B2B data is a critical resource. Many companies do not know what B2B data is. If they do, they may have difficulties achieving any type of success in the absence of quality data.
Where Can You Find Useful B2B Data?
B2B data is obtained from B2B data providers and sources. These can be categorized into two groups: internal and external data sources. The former is data collected by the company itself, while the latter is data usually acquired by third-party B2B data providers.
Internal Data
Gathering B2B data internally is a good way to maintain full control over the process and ensure a fast turnaround between sourcing the data and a B2B sales team being able to leverage it. However, this approach tends to be very expensive in the long run as it requires employing a team of highly-skilled data researchers, a costly and time-consuming process.
This is especially true for companies located in large cities, where salaries are high and office space is at a premium. Onboarding a data acquisition team also requires creating employment contracts, managing payroll, and providing adequate training in data acquisition, cleansing, validation, and data storage.
Companies will also need to acquire various tools to identify and scrape the contact data of possible leads. LinkedIn Sales Navigator, a popular option, costs $80/month per team member. In-house sourcing is also quite time-consuming, as producing a clear spreadsheet of B2B data involves several time-intensive processes such as removing inaccurate data and data duplicates, matching the details with the company's B2B database to ensure data quality, uploading the data to a CRM, and performing ongoing validations and cleansing to ensure that everything is updated.
External Data
Companies often opt for external data solutions in order to reduce costs associated with the acquisition, storage, and maintenance of quality data. Aggregated B2B data can be purchased directly from data suppliers or through B2B data platforms. As data platforms usually charge commission fees, contacting a B2B data supplier is often a more affordable option.
Companies can also opt to hire a freelance web scraper via an online platform or social media. This is a popular way of sourcing B2B data as freelancers tend to be easy to communicate with, affordable, and have a fast turnaround.
However, there are some downsides to working with platform-based freelance web scrapers. The biggest downside is the lack of accurate data sources. In addition, the data is often collected in a non- GDPR-compliant manner. Using a data set for commercial purposes without knowing its source is extremely risky.
The most reliable way to obtain accurate B2B data externally is to hire a B2B data provider. B2B companies like Infobel Pro offer extensive B2B data available through APIs. This is the most cost-effective and fastest way of sourcing high-quality B2B data to generate targeted sales leads filtered by job titles, industry, firmographic data, demographic data, and technographic data.
Third-party data providers thoroughly clean, validate, and update their data to maintain their database and improve deliverability for email marketing efforts. In addition, their data is gathered in a manner that is in compliance with the GDPR.
Types of B2B Data
B2B data can be classified by type. Here's a quick breakdown of the most popular ones:

Demographic data— Related to personal and geographical characteristics like location, skills, and employment history.
Contact Data— Information needed to contact someone or a company like first name, email address or phone number.
Firmographic data— Based on company information, like company name, company location, industry, number of employees, and revenue
Technographic data— Related to either the technology that's used by the company's employees or the technology used by the company
Chronographic data— Related to events and changes that occur over time, including company relocation, company funding, acquisitions, IPOs, hirings, and notable promotions
Intent data— Refers to the prospect's online behavior and is collected mostly through the use of cookies, which monitor web searches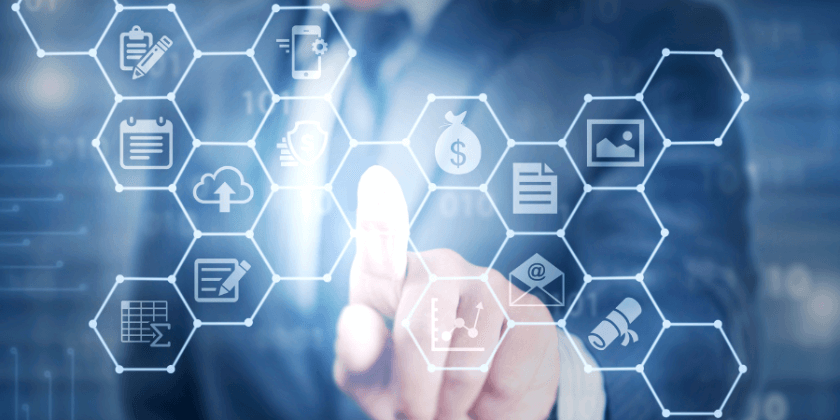 How Can B2B Data Be Used to Benefit Marketing and Sales?
B2B data plays a massively important role in the company's productivity, revenue, and sales and marketing teams' success. The data can be used to conduct various types of inquiries such as industry analysis and market research.
These use cases can be further divided into three categories:
Lead generation
Outbound sales
Analytics
Let's discuss each category below.
Lead Generation
The most frequent users of B2B data are the sales and marketing teams. Companies use this data to improve their lead generation, marketing strategies, and sales tactics to increase conversion rates.
For example, a software provider can keep track of the technographic information of a specific company. As a result, they can provide their marketing and sales staff with meaningful information regarding whether the potential customer's existing technology stack can accommodate more software.
B2B data can also be used to develop your ideal customer profile (ICP), a representation of the perfect buyer, lead nurturing and scoring, cold outreach, account-based marketing, and research and analytics.
Generally, a company's marketing department can use B2B data to do the following:

Identify your ideal custome — B2B data helps develop an ideal customer profile for both marketing and sales campaigns.
Increase demand — B2B data helps teams identify what content is relevant to a specific industry and can help generate demand.
Improve lead generation — B2B data helps focus efforts on a target audience rather than conducting mass marketing efforts, helping companies generate leads more effectively.
Make decisions based on data — Data eliminates the majority of speculation, allowing managers to make fact-based decisions.
Know the target audience — Having a clear understanding of a target audience allows marketing teams to personalize content and make it pertinent for the target market.
Outbound Sale
An outbound sale is defined as a sale in which the sales team representative contacts the prospect first. This can be done either with direct-dial phone numbers or with email marketing.
Getting in touch with a prospect personally can be time-consuming as an offer will need to be reviewed in detail with no assurances that the key decision makers will be made aware of your proposition.
By using quality B2B data, the chances of outbound sale success are significantly increased. The right data can identify quality leads and effective sales funnels, significantly cutting down the time between outreach and closing.
More specifically, B2B data does the following:

Improve the search of prospective clients — Data can help categorize prospects into different categories and examine them based on several criteria.
Expand product and industry knowledge — B2B data provides information about product sentiment from customers, giving businesses the opportunity to take comments into account and make the necessary product adjustments.
Ask more targeted, detailed questions — Personalization is a potent tool that enables companies to target the wants or problems of the prospects individually.
Improved understanding of client needs — Data points helps develop a complete picture of a client and determine their requirements by using B2B data to better prepare a sales pitch.
Locate key decision-makers and ways to contact them — Using B2B data, a company can select only the individuals and businesses that interest them and match their ICP.
Update current data to make more precise business calls — Adding relevant data to an existing stack makes it richer, more actionable, and more accurate, assuming that the current data is properly retained and managed.
Analytics
B2B data aid analytics, enhancing a business' research and analysis processes, including risk analyses, market growth, and competitive analyses. Data in the fields of firmographics, technographics, and intent are particularly helpful to firms for doing competitive analysis. A company might, for example, keep an eye on the technology stack, locations, personnel count, and product purchases of its competitors in order to make projections for its own expansion or industry growth.