If you're looking for B2B data providers in Germany, there are a number of companies and online platforms that might suit your needs. Of course, each with their own strengths and offerings.
You can choose between :
Companies that specialize in German B2B data, and sometimes also offer international data.
International companies that offer data in Germany, but often provide less accurate and qualitative data than local suppliers.
In addition to business data, several B2B data providers in Germany expand their offerings by assisting companies in discovering, utilizing, enhancing, appending, or seamlessly integrating business data into their products with the aid of APIs.
Whether you're looking for B2B data providers to find prospect lists, for sales, marketing or any other application, we've compiled a list of the best B2B data providers in Germany for 2023.
In this article, we'll take a closer look at these leading providers, highlighting their distinctive features and explaining how they can benefit your business.
List of the top B2B data providers
Tools

Amount of data in Germany

Compliant (GDPR)

Infobel PRO

5,8M+ Companies

(320M+ Worldwide)

Dealfront

5M+ Companies

Schober

4,5M+ Companies

Rexago

5,3M+ Companies

B2B Media Group

Unspecified number of companies
(11M+ Worldwide)

Implisense

2,1M+ Companies
Infobel PRO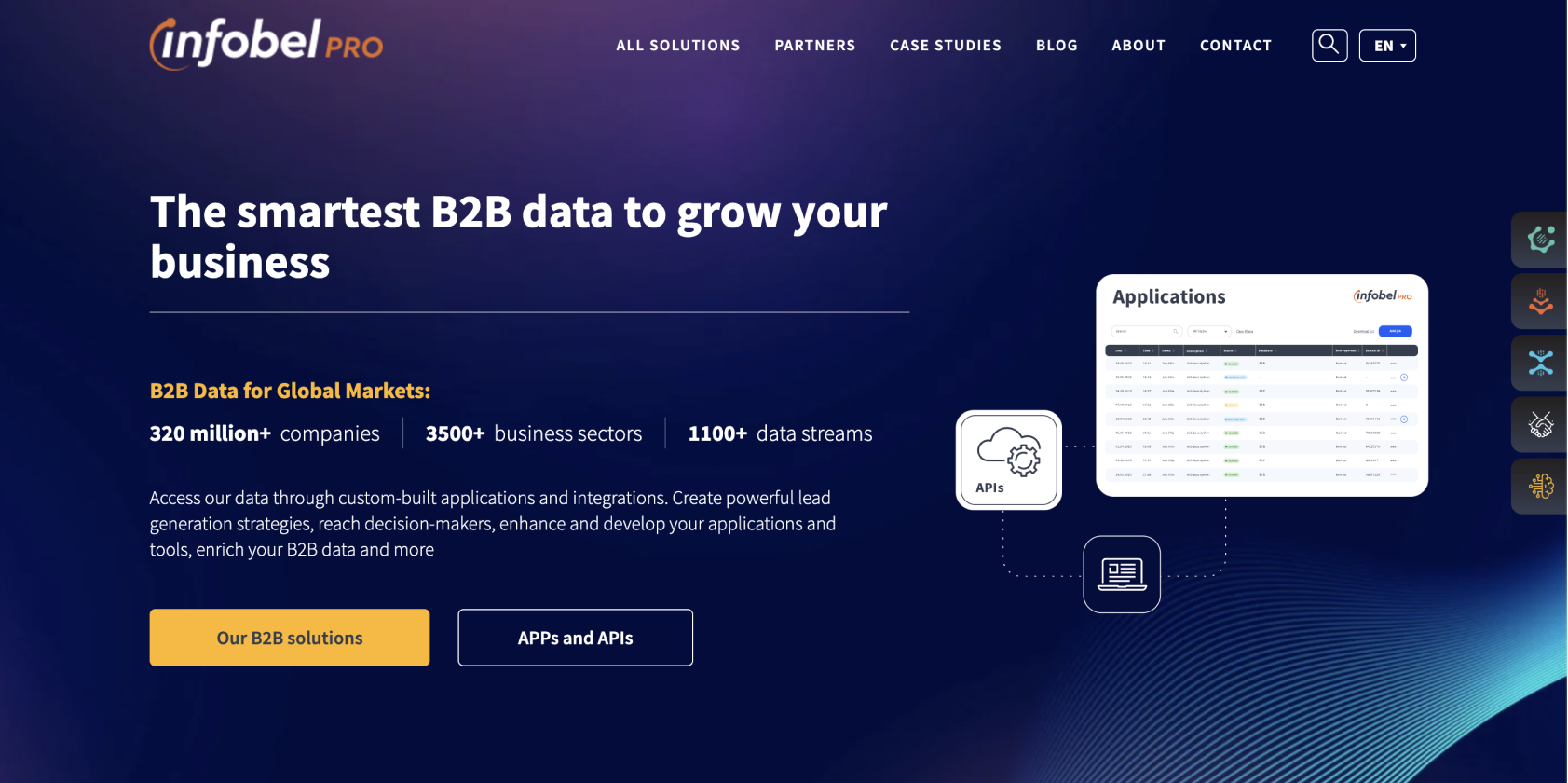 Infobel PRO is a B2B data provider that has been offering high-accuracy business data for over 28 years. Their comprehensive database includes data from over 5.8 million companies in Germany and over 320 million companies worldwide.
Infobel PRO offers various types of B2B data, including firmographic, technographic, historical, companies linkage, B2B contact data, technology data, company data, and more. Infobel PRO also provides advanced search and filtering options through their platforms to help users find and extract the exact data they need for sales purposes.
Dealfront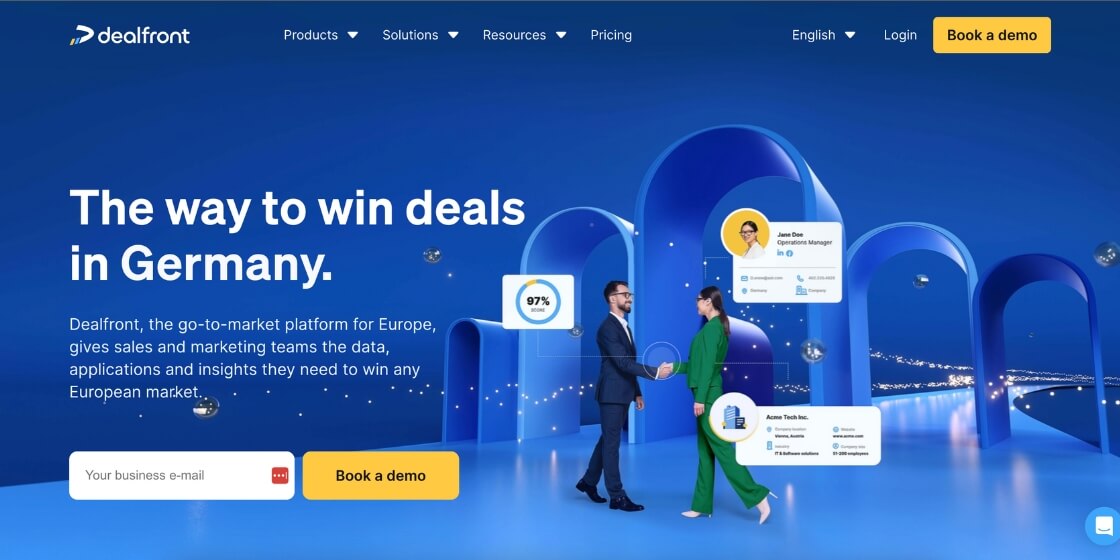 Dealfront, born of the merger between Echobot and Leadfeeder, is a German company providing B2B lead generation data. Its database comprises over 5 million companies and 21 million contacts in Germany. Dealfront maximizes sales and marketing with RGPD-compliant B2B data.
Schober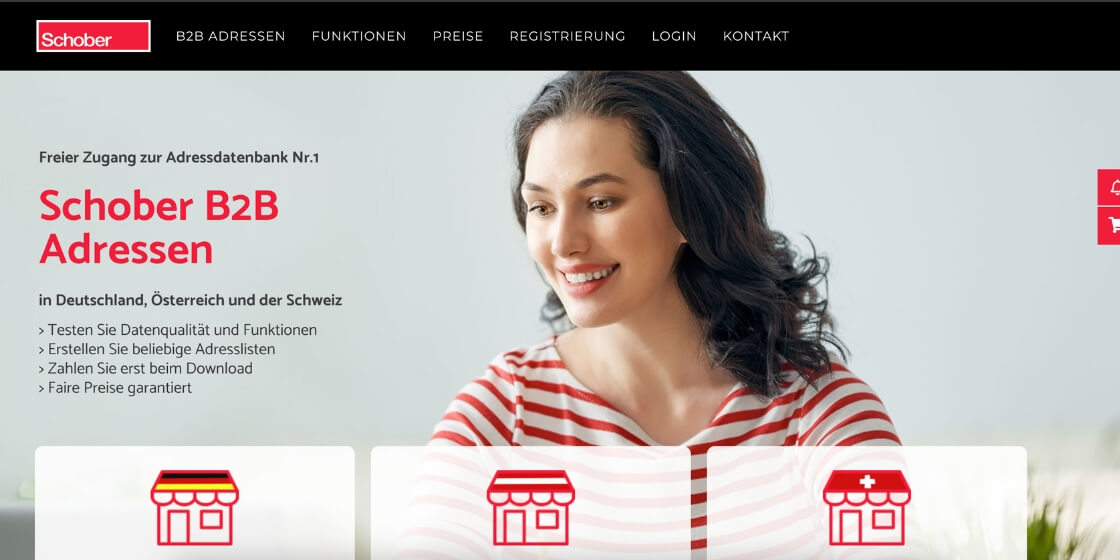 Schober is a German company specializing in database management solutions. They also offer access to their database, primarily designed for address retrieval, but with the option of contact data as well. Their database includes over 4.5 million companies in Germany, Switzerland and Austria.
Rexago
Rexago offers comprehensive solutions in the fields of online databases, data acquisition and data services specifically designed for sales, marketing and controlling activities. Their database consists of 5.3 million quality-controlled German company addresses.
B2B Media Group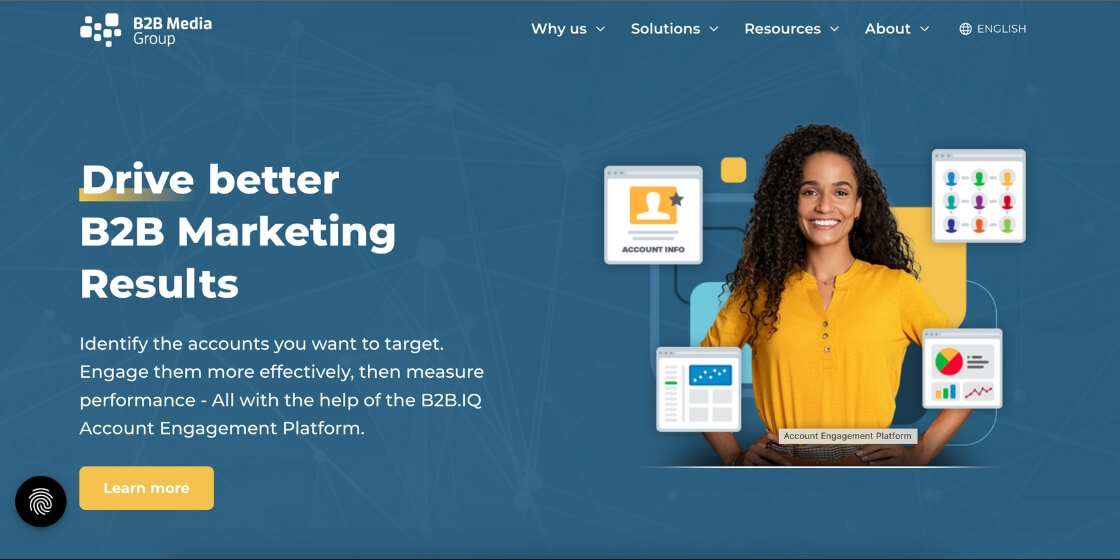 B2B Media Group is a B2B solutions provider with a focus on account-based marketing. With the acquisition of Aumago in 2019, the company specializes in data. The company has a database of over 12 million companies worldwide.
Implisense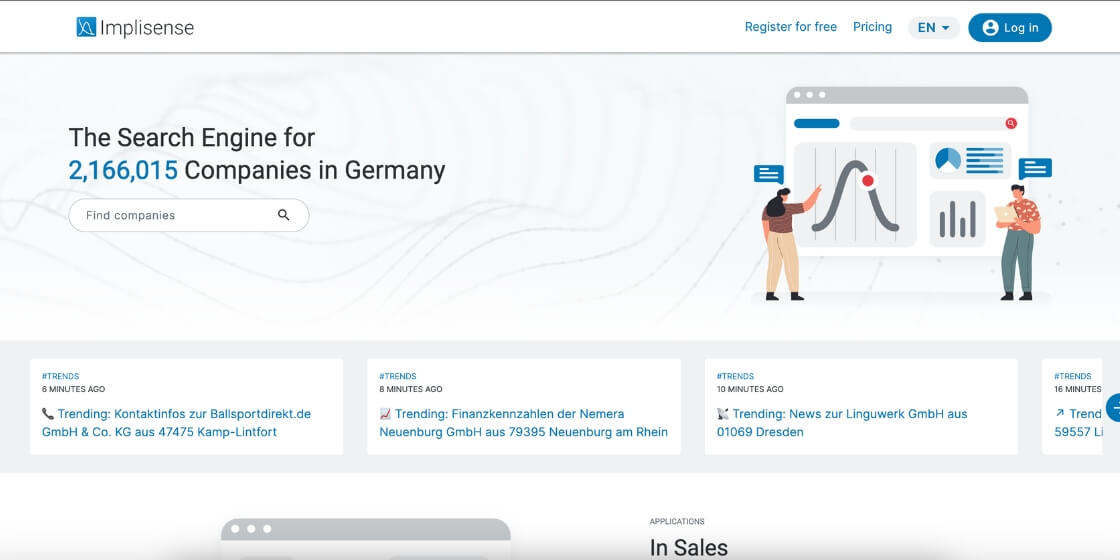 Implisense is a sales intelligence provider with a database of over 2.1 million companies in Germany. Their services include lead generation, data enrichment, account intelligence and a google chrome extension to identify incoming emails.
How to Choose the Right B2B Data Provider?
Choosing the right B2B data provider is like finding the perfect key to unlock your business's potential. Here's a simplified the three essential steps:
1. Identify Your Specific Needs
Before you embark on the journey, know your destination. What do you need from the data provider? Is it market analysis, lead generation, or predictive analytics? Understanding your specific needs is like having a compass; it points you in the right direction.
2. Evaluate Potential Providers
Once you know what you need, it's time to explore the options. It's important to consider the following main differences:
Geographic coverage: Some suppliers offer global coverage, while others focus specifically on Germany market. Choose a supplier that aligns with your target audience.
Data quality: the data quality can vary significantly among suppliers. Look for providers that prioritize regular updates to ensure accuracy and reliability.
Features: Different suppliers may offer various features, such as segmentation, data analytics, real time data and personalization. Select a supplier that provides the features that meet your specific needs.
Pricing: Costs for B2B databases can vary greatly among providers. Some offer prices per month, others charge by the amount of B2B data used, find a supplier whose pricing fits within your budget without compromising on quality.
Customer support: Customer support levels can differ among suppliers. Opt for a provider that offers quality support to assist with any issues or questions you may have.
3. Request a Trial or Demo
Finally, take it for a test drive. A trial or demo is like trying on a pair of glasses; you need to see if it helps you see better. Ensure that the provider's services align with your needs and expectations.
By considering these factors, you can choose the right B2B data supplier in Germany that aligns with your requirements, ensuring access to accurate and reliable data for your business needs.
Frequently Asked Questions (FAQ) - B2B Data Providers in Germany
What is a B2B data provider?
A B2B data provider is a company specialized in collecting and providing business-to-business (B2B) data to other businesses. This data includes information on companies, industries, markets, and more.
Why would a business need B2B data?
B2B data is valuable for various purposes, such as lead generation, market research, competitor analysis, and customer profiling. Accurate and reliable data enables sales and marketing teams to make informed decisions and gain a competitive edge.
Who are some of the top B2B data providers in Germany?
Some top B2B data providers in Germany include InfobelPro, Dealfront and Schober.
What are the key differences between B2B data providers?
Key differences between B2B data providers include geographic coverage, data quality, available features, pricing, and customer support. It's crucial to consider these factors when choosing a provider that aligns with your specific needs.
How to Ensure Data Quality?
Data must be collected from legitimate and reputable sources, avoiding unqualified or web scraped data.
Solid integration processes, such as ETL Process, must be in place.
Data must be regularly cleaned to remove duplicates and correct errors.
Data must comply with legal regulations such as GDPR, especially when dealing with personal information.
How can a business choose the right B2B data provider?
To select the right B2B data provider, consider factors such as your specific data requirements, the provider's coverage and data quality, pricing structure, and the level of customer support offered. Conduct thorough research and compare different providers to make an informed decision.
Conclusion
Finding the right B2B data provider in Germany can seem like a complex task. But by clearly identifying your specific needs and carefully evaluating potential providers, you can find the perfect fit for your business.
Consider factors such as geographic coverage, data quality, features, pricing, and customer support to ensure alignment with your goals. Engaging in trials or demos is also an essential step to test the compatibility and effectiveness of the provider's services.
At Infobel PRO, we understand the importance of reliable and accurate data for businesses. We are not only an exemplary B2B data provider in terms of sheer volume but we also excel in offering advanced search and filtering options.
The flexibility and specificity we offer enable users to extract exactly what they need, making it an invaluable asset for businesses seeking to elevate their sales, marketing, or other data-driven strategies. That's why we offer a range of services to help businesses succeed.