If you're looking for B2B data providers in Italy, there are a number of companies that might suit your needs. Of course, each with their own specific strengths and offerings.
You can choose between :
Companies that specialize in Italian B2B data, and sometimes also offer international data ; and
International companies that offer data in Italy, but often provide less thourough data.
In addition to business data, several B2B data providers in Italy expand their offerings by assisting companies in discovering, utilizing, enhancing, appending, or integrating business data into their products with the aid of APIs.
Whether you're looking for B2B data providers to find prospect lists, for sales, marketing or any other application, we've compiled a list of the best B2B data providers in Italy for 2023.
List of the top B2B data providers
Tools

Amount of data in Italy

Compliant (GDPR)

Infobel PRO

6,8M+ Companies

(320M+ Worldwide)

Registro Imprese

6M+ Companies

AddressVitt

3M+ Companies

Atoka

1,5M+ Companies

Empresite

2,1M+ Companies
Infobel PRO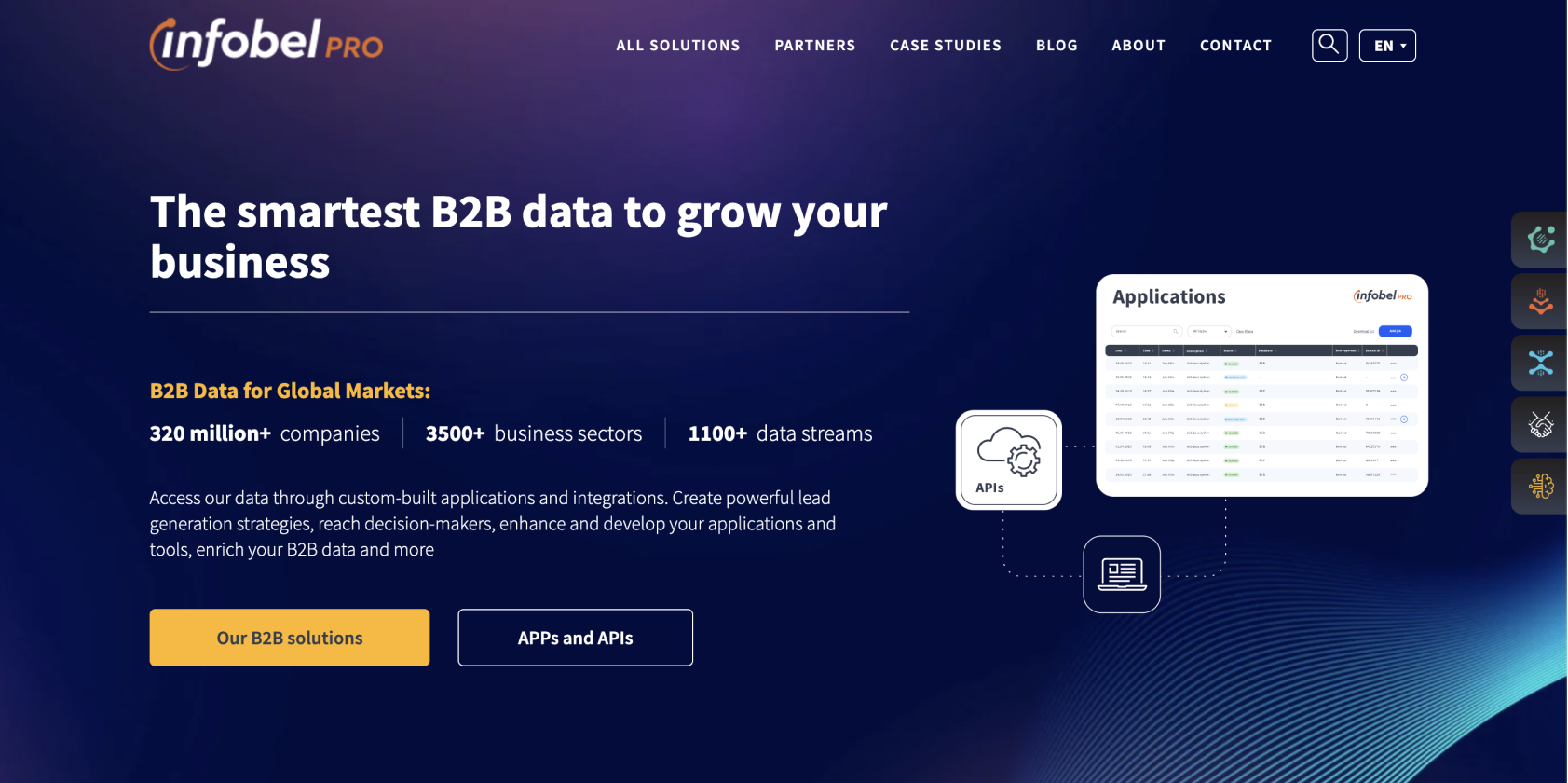 Infobel PRO is a B2B data provider that has been offering high-accuracy business data since 28 years. Their comprehensive database includes data from over 6.8 million companies in Italy and over 320 million companies worldwide.
Infobel PRO offers various types of B2B data, including firmographic, technographic, historical, companies linkage, B2B contact data, technology data, company data, and more. Infobel PRO also provides advanced search and filtering options through their platforms to help users find and extract the exact data they need for sales purposes.
Registro Imprese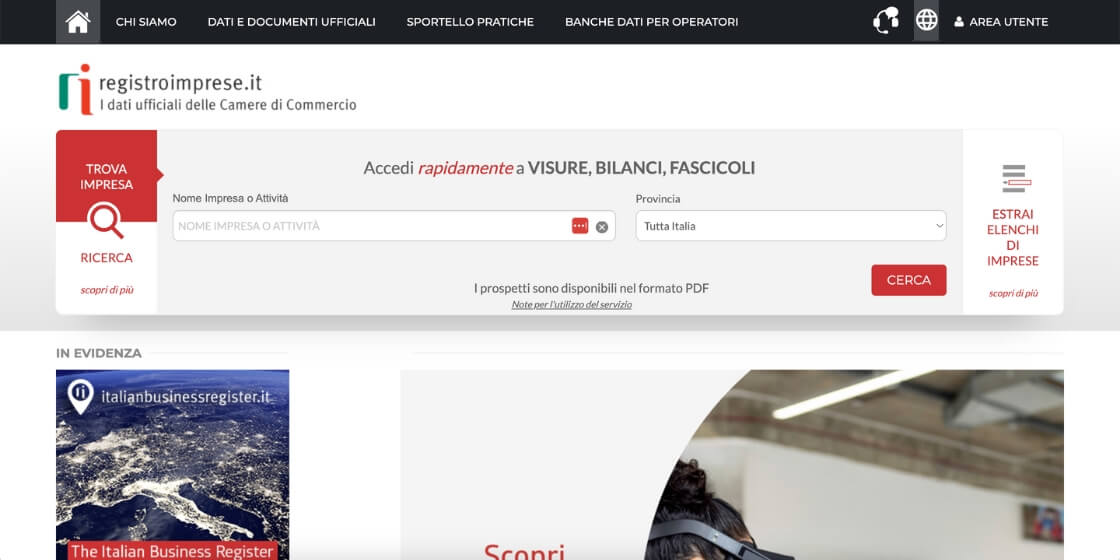 Registro Imprese is an Italian company registry solution developed by InfoCamere for the Italian Chamber of Commerce. Their database includes 6 million companies, 10 million people and 900,000 financial statements. It offers simple access to this information and to company lists.
AddressVitt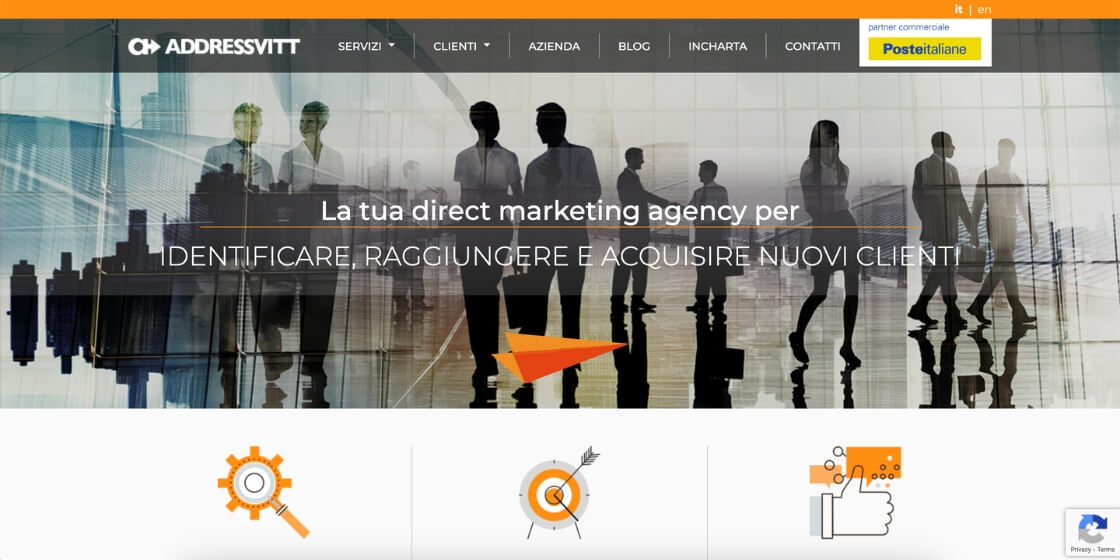 AddressVitt is an Italian direct marketing agency specializing in database management, direct marketing and multi-channel communication. It operates in various sectors such as banking, finance, publishing and retail. Their database includes over 3 millions companies and 7 millions contacts in Italy, as well as 40 millions companies in Europe.
Atoka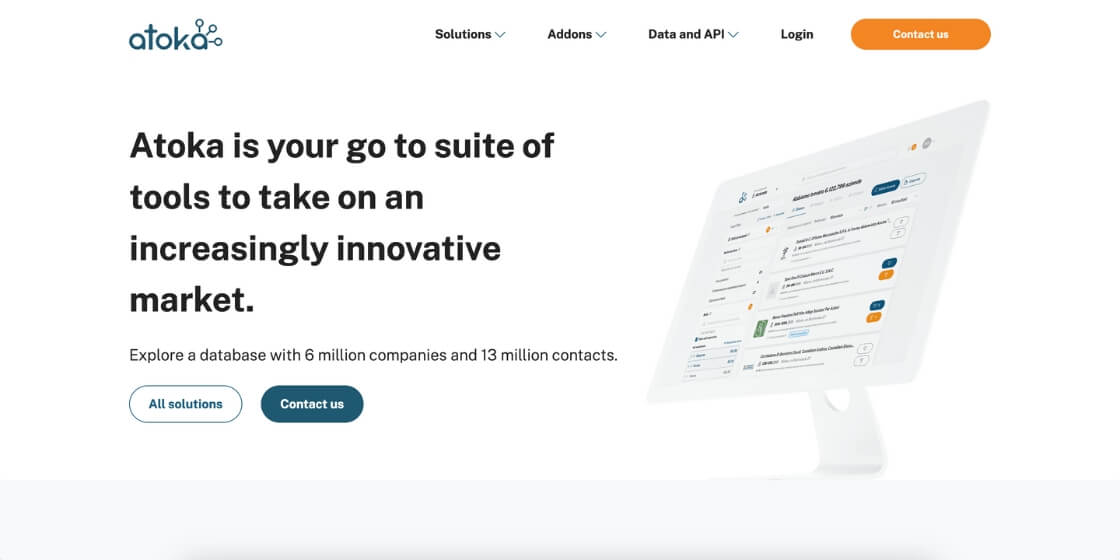 Atoka is a search engine for finding companies and contacts. The tool belongs to SpazioDati, a company creating Sales Intelligences tools. Their database contains over 6 million companies and 13 million contacts in Italy.
Empresite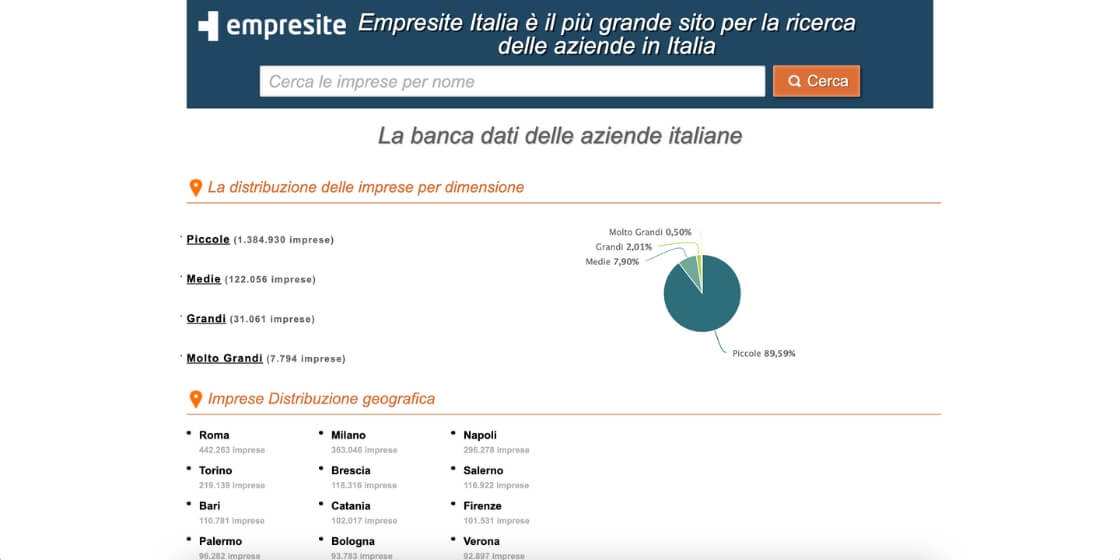 Empresite is an Italian business directory from iCribis. Their database contains over 1.5 million companies in Italy.
Others
Braincompany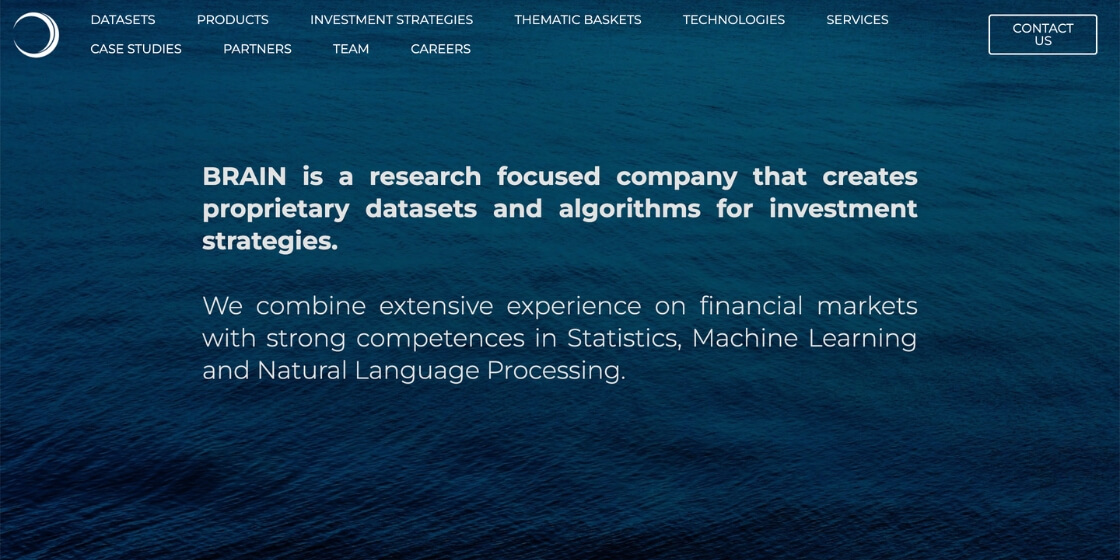 Brain Company specializes in the creation and analysis of data sets for investment strategies. Combining skills in statistics, machine learning and natural language processing, Brain analyzes financial markets and news to provide indicators such as market sentiment and stock popularity. The company offers a range of data sets, such as market sentiment on over 10,000 global stocks.
Data Appeal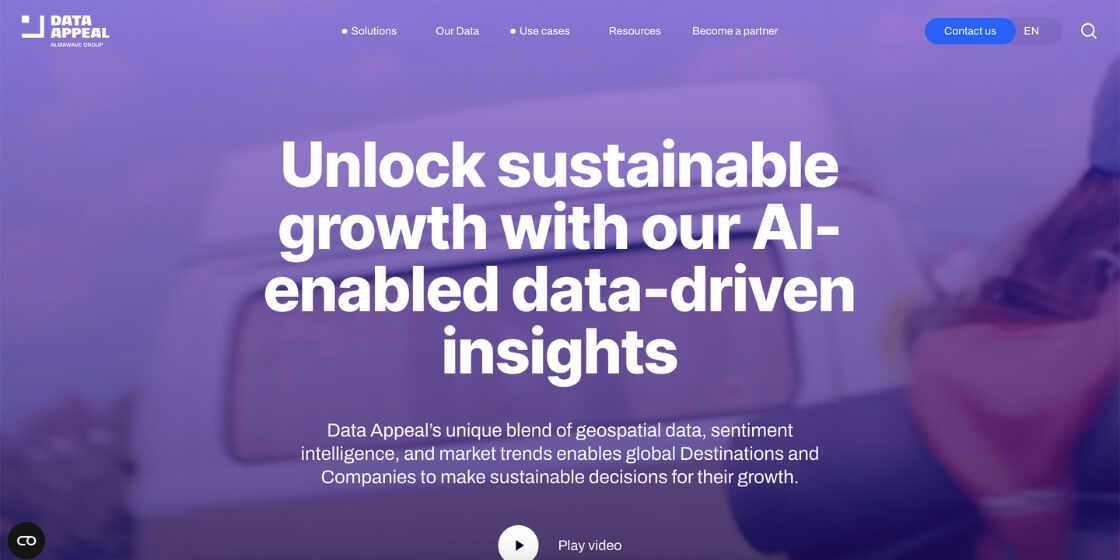 Data Appeal, part of the Italian company Almaviva, specializes in providing POI and location data, enriched with indicators such as sentiment and popularity. Their data packages offer a complete view of businesses and actual locations for any specific area in the world.
Choosing the Right B2B Data Provider
Geographic coverage: Some suppliers offer global coverage, while others focus specifically on Italian market. Choose a supplier that aligns with your target audience.
Data quality: The data quality can vary significantly among suppliers. Look for providers that prioritize regular updates to ensure accuracy and reliability. You can also request a free trial to ensure data quality.
Type of data: The type of data you're looking for may be different depending on your business. You may be looking for a contact database to help you reach your prospects, or you may need a company database to find prospects or competitors.
Features: Different suppliers may offer various features, such as segmentation, data analytics, real time data, personalization, Google chrome extension. Select a supplier that provides the features that meet your specific needs.
Pricing: Costs for a B2B database can vary greatly among providers. Some offer prices per month, others charge by the amount of B2B data used, find a supplier whose pricing fits within your budget without compromising on quality.
Customer support: Customer support levels can differ among suppliers. Opt for a provider that offers quality support to assist with any issues or questions you may have.
Why B2B Data is Crucial for Italian Businesses
Italy is a blend of modern industry and historic businesses that require a meticulous approach to business strategy.
In such a context, access to accurate B2B data is a necessity. Here's why:
Informed Decision Making: With accurate data, businesses can make decisions that are backed by facts rather than assumptions. This reduces risks and ensures better outcomes.
Targeted Marketing: Targeted marketing can lead to better conversion rates. With the right data, businesses can tailor their marketing strategies to reach the right audience.
Competitive Advantage: Having access to up-to-date data can give businesses an edge over their competitors. It allows them to identify market trends and adapt accordingly.
Enhanced Sales Strategies: Sales team use B2B data to prioritize leads, focusing on those most likely to convert. This understanding speeds up the sales process by addressing prospects' needs directly.
Frequently Asked Questions (FAQ) - B2B Data Providers in Italy
What is a B2B data provider?
A B2B data provider is a company specialized in collecting and providing business-to-business (B2B) data to other businesses. This data includes information on companies, industries, markets, and more. By using data from industry experts, you optimize your processes and avoid mistakes.
Why is B2B data important?
B2B data provides businesses with insights into their target audience, market trends, and potential opportunities. It helps you make informed decisions, target marketing and gain a competitive edge.
How do I choose the right B2B data provider for my business?
Consider factors like the accuracy of the data, the frequency of updates, the industries covered, and the provider's reputation in the market. It's also essential to ensure that the data aligns with your specific business needs.
Is real-time data crucial for B2B businesses?
While not all businesses may require real-time data, it can be beneficial for industries that see rapid changes, such as tech startups or financial services. Real-time data ensures that businesses are always working with the most recent and relevant information.
How to Ensure Data Quality?
Data must be collected from multiple legitimate and reputable sources.
Data must be regularly cleaned to remove duplicates and correct errors.
Data must comply with legal regulations such as GDPR.
WHO ARE SOME OF THE TOP B2B DATA PROVIDERS IN Italy?
Some top B2B data providers in Italy include InfobelPro, AddressVitt and Registro Imprese.
Conclusion
Choosing the right B2B data supplier in Italy can be difficult. But taking the time to look at the different providers to suit your business can help improve your company's performance.
It's important to look at things like where the data comes from, how good it is, what features they offer, how much it costs, and how they support their customers.
We understand the importance of reliable and accurate data. That's why we've invested in advanced search and filtering options, allowing our users to extract precisely what they need. Our commitment is to support businesses in making informed decisions.

If you're looking for a B2B data provider that offers a blend of comprehensive data and usability, we invite you to explore our B2B Data Solutions. We're here to help you navigate the complexities of the business world with confidence.